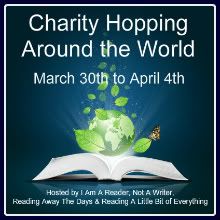 Hi, everybody - and welcome to the charity blog hop. For every comment, I'll send an extra dollar to my favorite charity, the Canadian Red Cross. Why is that charity my favorite? Because I can see the good work they do, not only in Canada, but right around the world.
And as a special treat - one person who comments will be picked at random to receive a copy of one of my favorite books.
for an extra entry, like me on Facebook.
Find the other bloggers here.